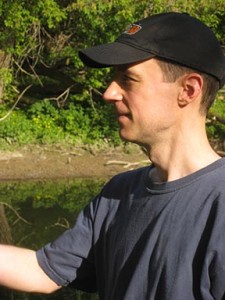 Chris Breier is an artist and graphic designer from Buffalo, NY. His favorite painting mediums are acrylic and watercolor. He prefers water-based mediums because they're virtually odorless, which is important to him as he works in a home based studio.
He enjoys working in acrylics because of their flexibility, they can be used to mimic watercolor or the thick impasto of oil paints. He takes advantage of the quick drying times of acrylics to create many layers of color in one session, and to be able to paint wet over dry almost immediately.
He became interested in watercolor for their expressive yet subtle qualities and because they require a different approach than acrylics. Switching between the two mediums creates variety and keeps him interested in painting every day.
Landscapes are his favorite genre and he finds inspiration in the colors and textures found in nature. The other genres that interest him are still life, cityscapes, and abstraction.
To see more of Chris Breier's work, visit also his official website or his Facebook page. To see how Chris is creating his amazing iPad portraits, visit his YouTube channel.