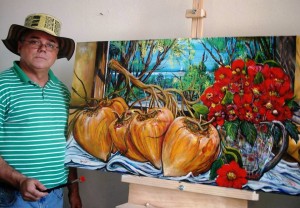 Amado Gonzalez (Amadon) started painting at very early age motivated by his older brother – also an artist. Very young he took classes for painting and esculture in the Regional Art School offered by the Ministry of Culture in his home town in Cuba. Graduated in the National School of Art in Havana in 1978, today living in Cali Colombia South America.
With many years of passion for his artworks Amado has been participating in many exhibitions around the world and his works are in private and public collections in many countries. Amado's creations are full of emotions and love for the nature.
Most of Amado's paintings are oil. He uses a mixture of different techniques to create his own personal style.
To see more of Amado's art, visit his Facebook page.