Sculptures by Conard Stone, Jamaica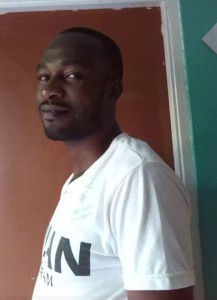 Conard Stone was born in Thompson town, Clarendon, Jamaica. He was inspired to carve at the age of 9 by his friends and family, when he started carving platboard pieces. Then by the age of 14 he was introduced to his first sculpture teacher Lancelot Bryan by "rasta Eddie" at the might gully youth project where they were specializing Lignum Vitae. On his first day his teacher Lancelot Bryan showed him a few of his sculpture pieces to show young Conard what he would be practicing to achieve. The first few art pieces shown were very interesting and exciting to Conard. They were female torso and female bust. Conard was amazed that his teacher could get such Three-dimensional forms out of wood. His teacher's artwork truly inspired him. After seeing the level of talent his teacher had, he promised himself that he will reach his teacher's level no matter what. In practice the first set of tools Conard learned to use were the wood file, sandpaper and hatchet, and after mastering the above, he finally started using a Chisel. He achieved better understanding in shaping and refining the "ligi" wood. After using Chisel to finally detail the "Ligi" wood, he naturally developed his own techniques and style of carving like nubean twits, figures, shackle man, etc. Now Conard is a master carver at the might gully youth with students of his own.
To see more of Conard's art, visit his Facebook page.