Ink and Pastels by Mark Temlett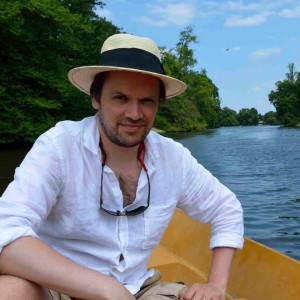 Mark was born in Helsinki, Finland and attended school in Paris and in Nice and graduated from business school in the USA with a Master of Science in International Business. Soon after Mark was working for big companies such as Price Waterhouse Coopers and Ernst & Young in London. A few years ago Mark decided to take a drastic turn and got back into art. Mark is a self-taught artist and has been drawing ever since he was a child, at restaurants on paper napkins and during the never ending classes at school. During his teens Mark started experimenting with Indian ink on paper and got heavily interested into satirical drawings therefore caricaturing himself along with his school friends creating stories based on everyday situations. Recently Mark's approach to art is based on combining the themes of the post impressionists with the Temlett twist. Two exhibitions and a vernissage of Mark's works have taken place respectively in July in Blois and in November 2015 in Paris and were very successful and more are being planned. Please take your time to explore the diversity and the richness of Mark's works ranging from surrealism to tropical paradises and to portraits with exciting stories behind each and every picture.
To see more of Mark's work, visit also his Facebook page or Online store.