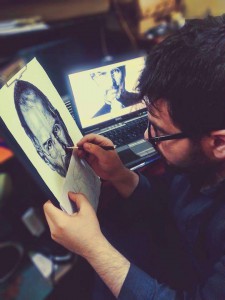 Abd Ulala Faisal is a young artist born in Baghdad, Iraq. His painting was published and exhibited in several galleries and were awarded a certificate in Jordan. The essence of his work is inspired by the challenges of the materials used in his drawings.
He uses various mediums such as oil paints, coal pencil, watercolors and ink on paper, napkins or tissue papers. The ballpoint pen Abd uses for portraits he considers a featured material that needs high precision to depend on. He creates realistic artworks, imitation of original photos which is a motivation for him to enhance his creativity and to prove his professionalism among some significant names in art in Iraq.
Creativity was part of his environment while growing up in a family of artists – his father was a cinematographer, grandfathers – a poet, and a sculpture artist; his uncle is an artist too. Abd Ulala is currently pursuing his art studies at the Institute of Fine Art in Baghdad which is one of the oldest academic and artistic edifices in Iraq. Many renowned figures of art graduated there, such as Jawad Salim and Faiq Hasan.
Abd Ulala's ambition is to reach hyperrealism in his works and achieve a resemblance of high resolution photos of views and figures. He hopes to fulfill this ambition after his graduation.
You can contact Abd through his Facebook profile.