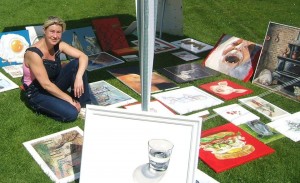 Artist of the Month for July 2015
Born July 14th 1971, Jurga's journey would begin with the foundation of creativity in Kaunas, Lithuania. An offspring of artists herself, the appreciation for art would only fuel a desire to create and be part of in its many forms. Training in Landscape design, it became apparent she saw things from the ground up and life itself would become a focal point in her artistry.
Small furry creatures and life on a canvas would not be the only creating she does. A mother of four children she now resides in Ireland, working and creating in Thurles, Co Tipperary taking in views of life many only glance at. A growing skill to capture things we wish we could stop and breath in, her work gives due to the moments passing and the objects within them. There is no doubt Life keeps her busy as she continues to aim for the realistic style in her oil works. Painting since 2012, the object of her work is second to the feeling she loves to share and evoke in each piece. Often the unique and whimsical lines of life lead to finding light we know is there but just didn't realize how much we see it.
Working with watercolors as well, she enjoys letting water exhibit its nature and flow. Preferring not to interfere with this, her work allows a perspective and an enjoyment for letting things be just what they are. A fan of the curvy, the wobbles and the fun form, there is no doubt she will one day paint an entire world of things that continue to make others smile.
To see more of Jurga's art, visit also her Facebook page.