Paintings and Drawings by Jovica Kostic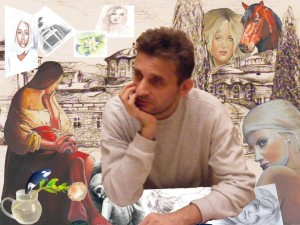 Jovica Kostic, a self-taught painter was born on January 04 in Belgrade, Serbia. He lives and works in Nis. Like many other drawing and painting since childhood, the interest for arts is maintained and developed through of years. Today art is his profession. He works in almost all techniques, from pencils to oil. He has own style, in-box already defined styles. The motives on his pictures are varied. Member of the Association of artist of Nis. He has participated in group exhibitions in Nis and all Serbia, still waiting for his solo exhibition.
To see more of Jovica's artwork, visit his Facebook pages for drawings and portraits.