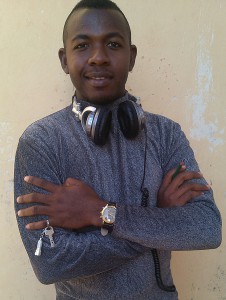 If one should think of a young promising artist whose oeuvre bear marks of creative gorges, here comes Cliff Agba. Cliff is an Artist whose eyes see differently and whose fingers co-ordinates the rhythms of his inspirations. He is from Nigeria. Born on the 5th day of January 1989, at Neni near Awka the state capital of Anambra in Nigeria. He is the last child of his parents. Cliff started expressing his creative threats at the age of seven when he made some drawings from children's book of bible stories and some books on nursery rhymes. His primary education was an excellent one. Though he fought his temptations of scribbling on his readers texts which not only defaced his texts bought for him by his parents but also annoyed his beloved father so much. Cliff never gave up art during his secondary school days. His creativity and busy nature attracted more peers to him. Though a little bit shy, everything vanishes in the thin air whenever he gets on with his pencils. He once represented Anambra state at the JETS (junior engineers technicians and scientists) competition held in Sokoto, the city of caliphate at the northern part of the country. This happened a year before he finishes his secondary education and he later proceeded to Nnamdi Azikiwe University Awka to study Fine and Applied Arts. He is a determined fellow. Cliff gained admission into the department of Fine and Applied Arts 2009 where he obtained his B.A in 2013.
Cliff is always free with his expression observing his works, one notices his character which always seems to be in haste but captures his subjects in essence. The crazy strokes on his sketch-like drawings are wild and also a good example. He always goes straight to capture the vital points I.e. the center of interests and cares less about other areas. His palette creates moods, always mild, cool and sends message of tranquilities. This always makes his works starring innocently from his canvases unto their audience.
Cliff combines different techniques together in his works be it paintings or drawings. In his paintings, cliff will always attack his subjects with alla prima and let go for a moment for it to set before going for a dry brush technique. He always glazes some part of his works. His favourite is oil. He made use of other materials like pastels, acrylic, charcoal, and pencils. Cliff is a lover of nature. He is always inspired by the unseen beauty in his subjects which he brings out on his canvas. Social life, landscapes, young men and women, older men and children are the things that tickle his moods. His drawings are will and innocent at the same time.
To see more of Cliff's artworks, visit his Facebook page.