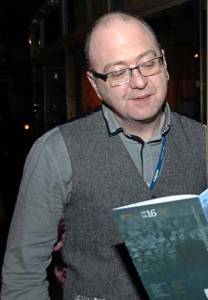 Born November 1969, Irish artist Patrick McGovern's  journey in the art in 2014. Since then he has grown from strength to strength, having already had a solo show in 2015, 2 scheduled for 2016 and inclusion in a gallery with numerous sold pieces to validate his new found creativity.
He paints predominantly in a limited earth palette of watercolour and acrylic in a mixed media format. He is proudly self taught having developed a unique style blending realism and nostalgia. With visible sketch lines and brushstrokes showing each piece has a naive painterly feel remaining simple in its completion. He cites his main influences as the Irish artist Jack B Yeats and British Northern Art school.
 "Because I am self taught I am not bound by any limits or idealists other than what my imagination can see and what my hands can produce. I use it as an opportunity to explore the range of possibilities allowed through different methods of application so will use whatever medium or expressive brush stroke I need to achieve this."
To see more of Patrick's artwork, visit his Official website, Facebook page or via e-mail.