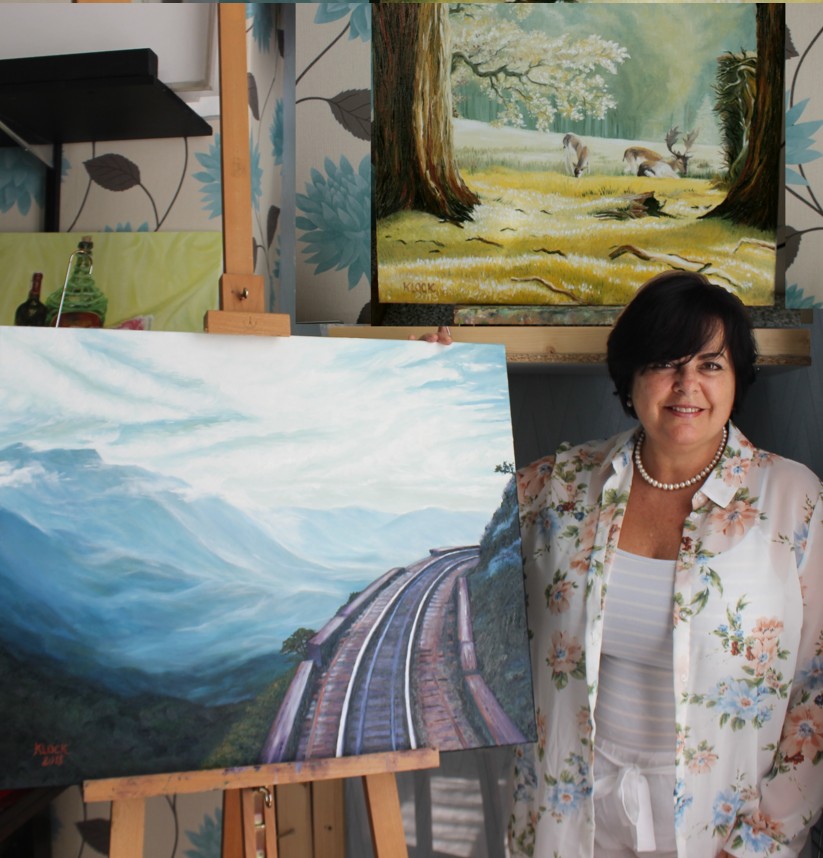 Daisy Klock was born and bred in Santa Catarina, South Brazil. Her talent for art was evidenced at an early age, but it was in 1979 that she was discovered and encouraged to paint oil on canvases.
During the 80s, the founder and CEO of Arctic Refrigeration Ltd commissioned an artwork to cover a large wall. The theme was his own company and the material black charcoal. After this job, several other oil paintings on canvases were commissioned through the following years.
Art Exhibitions recognized her talent, and "The Sperm Whale" received an Awarded Honourable Mention at the House of Culture in Itajai, SC. This same painting was acclaimed by Arts Critics in the Exhibition "Professional and Amateur Painters" in Florianopolis, SC.
Nearly the 90s, she was invited to exhibit several of oil paintings at Young Artists Program sponsor by RBS TV in Itajai.
In 1997, Klock moved to the UK. However, another decade past before she returned to exhibit new paintings in open art markets and art community centres around Hertfordshire, England.
In 2018 she opened her own website and acquired her own trademark Painting EvocativArt.
Since July 2018, after extensive researching and planning, she is painting a series of wildlife themes and other natures using finger paint techniques.
Currently, she is doing her master's degree in Business Management and Entrepreneurship in London.
Daisy Klock is a self-taught artist, and the majority of her studies in art consist of art museums and galleries visits, exploring art books or understanding the life of past masters. Through the knowledge of their lives, she could define their techniques and selected topics.
Klock likes to express in her paintings the way she sees things, in her own perspective of beauty.
To see more of Daisy's artworks, please visit her official website, Blogger, Twitter or LinkedIn.