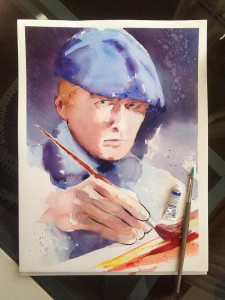 Vladimir Tuporshin was born in 1960 in Vytegra, in the north part of Russia, near Onezhskoye Lake. He made his first drawing at the age of seven and kept drawing until his seventeen. Then he completely forgot about pen and ink, entered Physics department of the Moscow State University, and drawn completely into the science. He defended dissertation and got Ph.D. degree, moved to the Russian Far East area, and spent four years on the Shikotan Island (South Kuril chain of islands) providing geophysics research of the Pacific coastal area. In 1990s he gave up his scientific carrier and turned into entrepreneur, established a software development company, and keeps running this business until nowadays.
Science is known to be a left-brain activity. Software development is also left-brain labour. In other words, these kinds of human activity assume analytical and sequential (verbal) approach. Left hemisphere of human brain is responsible for analytical thinking. On the other hand, a right part of human brain is responsible for visual information processing. Visual art, i.e. paintings and drawings, is a kind of human activity powered by the right part of our brains.
At the age of fifty left part of Vladimir's brain got sick and tired of science and software. Vladimir remembered his childhood years, and decided to resume his drawing experience. In the year 2010 he restarted to draw and paint. His brain got back into balance and his life became harmonic again.
In the last five years Vladimir draws and paints every day. His favorite subjects are: cityscapes and landscapes. He walks with his sketchbook along the old Moscow streets and makes a lot of sketches. Some of these sketches look like completed works, others are used as a reference material for larger works Vladimir creates in his home studio.
As a business owner, Vladimir has enough revenue for living, so he does not sell his art. Most of his artworks go "just as a gift" to his friends, partners, family members. Vladimir still considers his art activity as a hobby, but does not except that someday he will switch to painting on a full-time basis, and turns his hobby into profession.
To see more of Vladimir's artworks, visit also his Official website or Facebook profile.