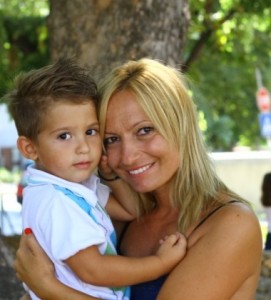 Rusalena Nikolova was born in Varna, Bulgaria in June 1977. In 1995 she graduated from art school in Varna specializing in stained glass, and in 2000 graduated from Sofia University "St. Kliment Ohridski", specializing in Pedagogy of Fine Arts and profile painting.
In recent years, the artist has been inspired by human face as in portrait painting with special attention to the eyes of her subjects. She says that eyes are all "True and False". There are "Full and empty". For the portraits she uses oil paints. She is also very interested in stained glass windows and frescoes.
To see more of Rusalena's art, visit also her Blog.