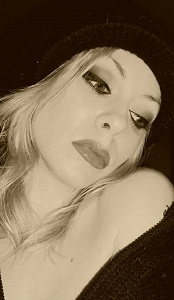 Monica Stoycheva was born on February 24, 1982 in Bulgaria. She had graduated at High School of Fine Arts "Prof. Nikolay Raynov " in Sofia – profile painting and graphic design.
Two years ago she enrolled in a course in iconography. She found an inspiration and plans to continue with it. The feeling of painting Holy images cannot be described in words, Monica says.
Under the pseudonym Monique Valery, she prefers to draw abstractions, figural compositions, abstract portraits and flowers. She paints with temper colors, watercolors, special pigments and oil paints. Her canvases are cardboards, wood and cardboard base surfaces, watercolor paper. She writes poetry and short prose, likes modern art and she thinks every artist brings something new to the world.
To see more of her art, visit Monica's Facebook page.