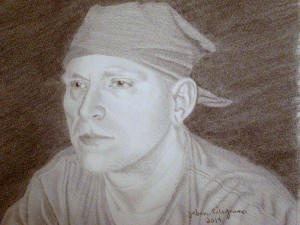 Jason Cirignano was born in Staten Island, New York in 1979. Art has not always played a significant role in his life. But it was there in the beginning.  As a child he would spend hour after hour drawing his favorite cartoon characters. Making Mickey Mouse and Fred Flintstone come to life under his own pencil thrilled him to no end. He would also create his own characters which he routinely drew and redrew as he searched for their proper design. But this was all just his way of dealing with boredom. And it failed to last.
At the age of fifteen he began experimenting with drugs. His interest in art quickly diminished to nothing as he delved deeper and deeper into the world of addiction. Specifying the various drugs he used would be pointless; suffice it to say that he was on several of them. It wasn't until his late twenties that he was finally able to escape those demons.
He found himself with no job, no education and few opportunities. Being unemployed, the one resource he had was spare time. And so practically by default, art reappeared in his life as a means of dealing with boredom. He started drawing again. He also tried his hand at oil painting but quickly decided that oil was not going to be his medium. But he continued filling sketchbook after sketchbook with his drawings as he honed his skills. This occupied him for a few years but was not his only activity as he had also begun writing short stories. And by the time of his thirtieth birthday he began writing a book loosely based on his life as a drug addict and his efforts to sober up, a project that continues to this day (July of 2015) more than six years later. At this time he also began experimenting with watercolor paintings. He would in fact learn a lot about color theory through watercolor but watercolor itself proved incompatible with his artistic taste. He continued writing and painting over the next few years but by the time he turned thirty-three he had discovered the art style known as "hyperrealism", specifically with respect to pencil portraiture. He was amazed with what he saw in the works of Kelvin Okafor, Paul Cadden and others and decided to put the watercolors away and focus on serious pencil art.
Having no teachers, he learned through experimentation. At first it was frustrating because he was not able to achieve the results he saw in the works of others but he remained fascinated by the potential and stuck with it. He soon discovered that by using graphite pencils, Q-tips and blending-stumps he could successfully build up convincing flesh tones in the grey-scale; he then realized that by incorporating charcoal into his technique he could pump up the contrast and thereby create more dynamic images. He has not yet reached the plateau of hyperrealism but he has achieved realism and continues to strive.
He favors portraits over all, both human and animal, but does draw still-life's, landscapes and the like as well. He does work with color pencils but feels most comfortable with graphite and charcoal. He accepts commissions but the majority of his drawings are done for the fun of it. Whether he is drawing or writing, the one goal he always has is to reflect life as best as he can.
To see more of Jason's artwork, visit also his Facebook page.