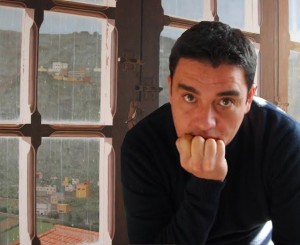 Artist of the Month for August 2017
Alejandro Fajardo was born in Las Palmas of Gran Canaria (Spain) in 1969. In 1990 he began his art studies in the La laguna University (Tenerife) and graduated in 1996. In 1997 made his first exhibition in the "Central- Hispano 20 gallery" in Las Palmas. In 1998 received the "Accesit" in the "Painting Contest Las Palmas City". The same year received the first prize in the "Virgen de la Cuevita de Artenara contest". His second exhibition was in 1998 in the "Club de Prensa Canaria gallery" in Las Palmas. In 2003 he performed his third exhibition in the "Mapfre gallery". In 2008 and 2010 Alejandro had two exhibitions in the "Magenta Restaurant". The last exhibition that he made was in "Soppa de azul gallery" in 2014. The same year performed a new exhibition in "Casa de la Cultura de Firgas" (Gran Canaria).
In 2008 Alejandro started his doors, windows and locks series in his studio in a XIX Century house. He found too much themes based in the old and rotten wood and the rusty metals of doors, windows and locks. He took photos of them and painted in big formats, so the details of the rotten wood and the rusty metals would stand out in his paintings. In 2014 he worked in another old house, where he continued with his windows, doors and locks series.
Nowadays he is painting a new collection based on vegetables motifs.
To see more of Alejandro's art, visit also his Facebook page.