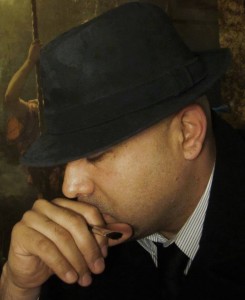 Since the age of two Steven has explored his creative nature by drawing, writing, and acting. In High School his focus shifted to Architecture. The process of building something from a concept was an upgrade from drawing on paper. During his adult years prior to 2011, art wasn't much of a factor in Steven's life. Drawing only on occasion, he began to develop inspiration from how other artists utilized their talents. Eventually it would change the course of Steven's life in pursuit of an art career without any formal training in the arts, and relying solely on his artistic-skill, instinct, and fervor.
 Today Steven's work is generated from personal experience, dreams, imagination, faith, and his environment. Determined to defy the limitations of a four-sided canvas, Steven has implemented an alternative approach to art. His style, known as Anti-Orthoism breaks the barriers of the typical orthogonally shaped canvas. Deriving from a background in Architecture, a careful planning process begins with a concept generated from visions and eventually into a much more detailed, precision built canvas stretcher that is almost sculpture-like in form. These canvas/sculptures communicate directly with the subject matter, allowing the painting to have a greater sense of motion and space.
To see more of Steven's artwork, visit his Facebook page or his YouTube channel.