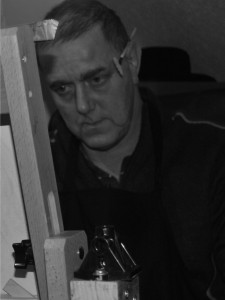 Artist of the Month for June 2016
Colin is an Artist born and still residing in Manchester, England. He studied Art to 'A' Level standard at school (a number of years ago, but he won't say just how many), and apart from the help and encouragement he received at school 6th Form, from his Art Teachers (who were excellent Artists themselves), he is mainly self-taught.
Over the years he has taken a number of different career paths, and it is only recently that he has rekindled a passion for painting after a twenty five year gap. He started by using his own two dogs as subjects 'Ciro and Dino' and he tends to work from Photographs. Although he specializes in Dog Portraits, he also accepts commissions for Birds, Horses and Cats (and also 'Pets and their Owners' together' on the same painting). Other animals by discussion.
 He began his Painting career using Acrylics with an airbrush and fine paintbrush; followed by a combination of acrylic and oil; finally settling on 'oil' on its own. He claims that 'Never the Master' he is learning all the time and always looking to improve and perfect his styles based around two traditional painting techniques: 'Imprimatura' (Uses a thin first layer which includes shade and shadow. It can sometimes still be seen through the final layer. It is a slower process and drying time has to be accounted for, but the final layers and glazing help to create the finer detail). 'Alla Prima' (More 'wet on wet' style and the majority of the painting is finished in one sitting or 'First Try').
He enjoys capturing the personality of a Pet on canvas and says that although Breeds have the same appearance, subtle differences make each Pet unique to their Owners. He also feels that there is a certain prestige to painting in Oils and consequently they are his favoured medium mainly because they are: Versatile and allow an Artist to return to the painting to keep adding layers in order to improve the image Extremely durable and long lasting Oils provide greater depth and translucency. They have more pigment allowing richer, more vivid colours.
To see more of Colin's artwork, visit his Official website or Facebook page.