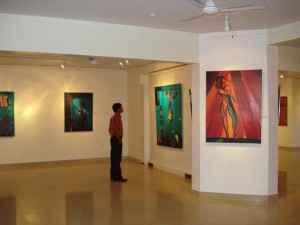 The works of Satyajit is an interesting example of a painter trained as a printmaker. In his initial training at the Government College of Art and craft, Kolkata, he has learned the academic western techniques of oil and watercolour painting along with making charcoal and pastel drawings with strong lines and subtle tones. After coming to Baroda he did his post-graduation in printmaking where he started making matrix with definite images with narrative elements.
This two different training altogether made a difference in both his prints and paintings. In one hand he started incorporating painterly elements and colour applications in his prints, on the other hand his paintings became more decisive in terms of definite and narrative image making.
In his initial days his subjects were more connected with rural life of Bengal, mainly landscapes and human and animal forms (buffalos and horses) etc. After coming to Baroda his choice of subjects took a different turn. His images became more narrative and loaded with black humour. At that point he was dealing with the hypocrisy of urban people and culture. It was the time when free market economy just entered in the Indian society and drastic changes were taking place among upper and middle class society of Indian consumers. Satyajit's works, both paintings and prints was a take on that.
After shifting to Mumbai, Satyajit started incorporating various elements of Mumbai, especially the huge difference in life style of mumbaikars living in slams and hi-fi apartments. Along with that the dazzling presence of Bollywood among the common people is sarcastically represented in his works. One more interesting subject he is dealing with is the presence of nature almost in a caged form within the urban structure. A small plant in a window of an apartment or a coconut tree studied from the window take him back to a nostalgic past and revive his memory of a rural boy presently stuck in a urban complexity that was never his own.