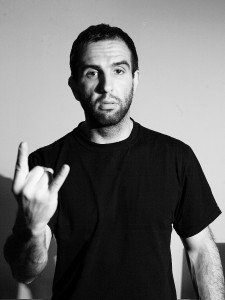 Kiril Stanoev is a self-taught photographer, born in Bulgaria in 1983. Keeping the balance between madness and tranquility in his images, he loves it jam-packed and colorful and sometimes retained. Faithful to his own unique style, he often prefers to use red and blue tones with chromatic aberration – an effect that's making it impossible for the human eye to simultaneously focus the red and blue elements. He often uses decorations, such as posters, magazines, balloons and accessories, giving the feeling of exaggeration, while in other images the emptiness shall convince. If you look closely, you can notice the narrative background of the photo in the intendedly installed details.
Kiril is featured artist for magazines like Vogue Italia, Maxim, Photo France and many more.
To see more of his work, visit also his official website and his Instagram profile.