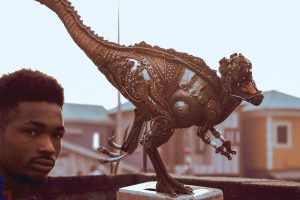 Oladele acquired a National diploma with upper credit from Lagos State Polytechnic Ikorodu campus in 2015 and later proceed to acquire a Higher National diploma in Fine arts, sculpture Major in the prestigious Yaba College of Technology with upper credit in 2019. His ardent indulgence in the art market as a metal sculptor, along with his choice of material selection and the use of junks, found objects and scrap metals along with his passion of drawings, painting and mix media in different areas of interest gave him an edge of being experimental and also create activities to be celebrated as an environmental artist. Most of his works are sold within and out of the country.
WORK AND ACHEIVEMENTS
Collections of work purchased by Belgium ambassador to Nigeria.
Collection of works featured in October Rain Exhibition acquired by King of Morocco. Also, his works can be found in some private and public places like Transcorp Hilton Hotel Abuja. He as featured in several groups exhibition's and auctions. He is a member of Society of Nigeria Artist (SNA) Lagos State chapter. He has also made much achievement in different art platform such as talent Hunt exhibitions.
He was the First prize winner in sculpture at the National gallery of art Lagos in 2009.
He was the overall winner in Children Art Talent Hunt Exhibition in 2010.
He has also won the Ben Enwonwu foundation award in sculpture BEF in 2011.
He was the second runner winner at the (GCGT) season 3 grand finale by RCCG City of David Lekki, Lagos in 2013.
Sogal Art Auction in 2017, 2018 and 2020.
Drawing Workshops CCA Yaba Lagos in 2017.
He also won the Margine artist award in Society of Nigeria Artist SNA Lagos chapter in 2018.
He was the second  runner up in Nigeria Student Art Competition  (NSAC) in 2018.
He won a prize at the Africa Art Talent Exhibition TY Art space gallery in 2018.
Participated in the "Upcycling the new economy" II work shop Abuja in 2019.
Licdcente Abuja Art Exhibition 2019.
Life in My City Art Exhibition in 2019.
To see more of his artworks, find Oladele in Facebook, Twitter, Instagram, and Pinterest.