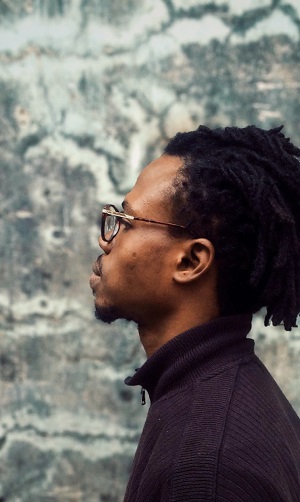 Oláyinka "Atunbi" Oderinde is a visual artist living and working in Lagos, Nigeria. He has found voice through the evocative medium of drawing and storytelling as he is purely inspired through divine revelation.
His art addresses Man on its constant search for self-awareness through the lens of spirituality, purpose and identity. However, as an open observer and partaker, his task is to document this inner voyage in visual narratives with a quest to leaving a bold trace about where we are as a race and where we must go.
Atunbi is a graduate of Fine & Applied Arts from the Ladoke Akintola University of Technology, Ogbomoso, Oyo State Nigeria.
Artist Statement
I have come face to face with the indescribable, the secret at the core of life yet words have almost reached their limit. I draw a world of line, form and colour using invincible ink. My instrument is no more than a spec of consciousness like a pencil point moving across a blank sheet of paper yet everything pours out of that single point, could anything be more mysterious, and at the same time miraculous ? A point infinitely smaller than a pencil point draws the shape of the universe, that point is made of "Essence."
Essence; the purest form of being. This is the heart of my practice.
Olá Atunbi
To see more of Olá's artworks, visit his Instagram profile.