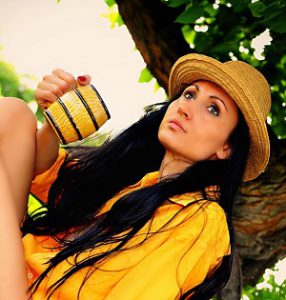 Jarka Fox is an international artist born in Slovakia. She has been painting since her childhood. As a child and teenager with natural attitude for painting she painted with whatever materials she came to hand.
After graduating at three different universities, a long period of travelling abroad, trying many different jobs, sometimes totally crazy, boring or exciting ones for her such as a travel guard, hostess, shop-assistant, photo model, animator, waitress, hotel manager, secretary, businesswoman, even a teacher, and school director. She often felt that what she did, where she was working was not the right thing for her, so finally she stopped it and decided to paint and create her art professionally and it was the cleverest decision she has ever done, as she says: "Simply, because I LOVE IT !!! Art is me, my life, asylum, the best "drug", tasty strong coffee, everything for me."
Jarka is a talented self-taught artist; she has a very interesting explanation for it not to study art: "I don´t need to be graduated from art to express what I feel and want. See around – many famous artists didn´t have any "Art" education and look where they are today. LIFE is my best teacher! I am not bound by any limits or idealists other than what my imagination can see and what my hands can produce. I´m who I´m, the only one," the original" and I´m free! "
Jarka has painted over 250 artworks in various media such as acrylic, watercolour, ink, but most of her works are acrylic.
Each her painting is an image of a certain moment of life representing different emotions and feelings indirectly expressed through colours. Diversity of themes of her works is extremely wide but her most inspiration comes from her own life and experiences, the world that she perceives with all her senses.
Her artwork is full of freedom and faith in humanity, it is meant to have a heart. Viewers of her paintings can feel the world full of emotions, beliefs, huge energy, love, desire, happiness, passion. Creating her art is an interactive process to transform the invisible into visible.
"If the people enjoy my paintings as much as I enjoy creating them, I have accomplished my goal of evoking connections."
EXHIBITIONS:
She started to exhibit her work only several years ago.
Her first Solo exhibition was in Galerie de Mondorf les Bains, in Luxembourgh in 2011 and then a year later in 2012 in Galerie Mlyny in her birth city Nitra, Slovakia. In December 2015 she was chosen by committee to participate at Group Exhibition at 4th Gabala International Art Exhibition in Azerbajdzan. Her paintings can be found in myriad public and private collections all around the world. Some of them are also permanently exhibited in some galleries, restaurants and cafés in Slovakia, Italy, Austria, Germany, Luxembourg, Spain, Greece, UK, some Asian and American countries.
During the past years when she used to be a teacher she taught Art, drawing and painting and was providing some painting workshops and projects for children and adults.
Now she currently lives and works alternately in Europe, Egypt and America, travelling, collecting experiences, preparing for some international exhibitions and opening of her own art studio and gallery.
To see more of Jarka's artworks, visit her Official website or Facebook page.