Watercolor Paintings by Georgi Terziev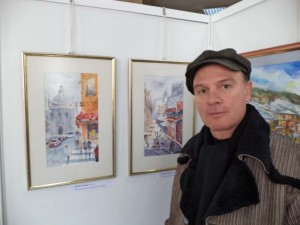 Georgi Terziev was born in Plovdiv, Bulgaria in 1965. In 1984 he graduated from the high technical school for carpentry and interior architecture in his hometown, where he specialized in wood carving. After completion of his military service in 1986 he was admitted to the Teachers Institute, which he completed in 1988. To this day he teaches visual and fine arts to students from 10 to 15 years of age. In the late 80-s of the last century he became fascinated with icons and in 1992 he was accepted as a regular member of the Fellowship of the Masters of Folk and Art Crafts – specialty icon painting. At the end of 1997 he was strongly attracted by the magic of watercolor painting. "The icon taught me work, discipline and perfectionism, while watercolor is the true expression of the depths of my soul", says the artist. So far he has had 22 solo exhibitions, one of them held in Berlin in 2014. At the end of the same year he was published in a catalogue, presenting 39 contemporary and international watercolor artists. He has participated in several solo exhibitions and workshops, among them – in Bergama /Turkey/ 2009 and Ohrid /Macedonia/ 2015. His works are exhibited worldwide.
To see more of Georgi's art, visit also his official website or his Facebook page.