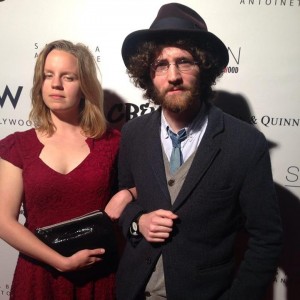 Syd Everatt and Dylan Wright make up the acoustic duo, The Velopheliacs. During the year and half they attending Musicians Institute together, they repeatedly would mention jamming together. But they never did, which often happens in music schools, until after graduation. On the night they did get together to play music, they wrote their first single, "Emilea", which was in May of 2013. The next day they wrote "Invisible Man", the leading track off their full length album, and the following week they wrote "Hinterlands", which became the title track of the album. That December, they began recording the album "Hinterlands" with recording engineer/producer John Would in Silverlake, CA. "Hinterlands" was released in June 2014, and since then the band has toured the west coast multiple times and has also created a full band project (among other experimental projects) called The Velotron, with which they play The Velopheliacs songs electrified. Visit their website for more information, tour dates, and links to listen to and buy music.
Dylan got his start in music, listening to Film and Video game soundtracks and various classic rock bands, particularly those experimental and exploratory in nature. Learning guitar at the age of 14, he performed in various bands ranging from Surf to Prog-rock until moving to LA in late 2011 to study guitar at Musicians Institute. Obsessed with Music Theory, he moved on to pursue a Bachelor Degree. He now writes scores for films and video games and also composes songs for progressive bands.
Syd started playing piano at the age of 5 and wanted to quit all the time. But she stuck with it, eventually came to love it, and started playing guitar at 14 and was instantly hooked. She started playing a lot of classic rock songs, coming to love Jimmy Page, David Gilmour, and Jack White. While in LA, Syd became a session musician and guitarist for hire, but finally decided to focus all musical efforts on songwriting for The Velopheliacs as that was her main passion.
Follow the band in YouTube, Facebook and Instagram.